About Kaz Cooke
Kaz is your friend for life, her books helping generations of girls and women with their health and life stages. She constantly updates her books which have become classics, reassuring and entertaining more than two generations of Australians.
She began her career as a cadet journalist at The Age newspaper, and soon lurched into other areas, producing her cartoon strip Hermoine the Modern Girl; and the first of many columns and books. She still writes things, and talks in public and on the radio. And on the phone.
Kaz lives in Melbourne and often works in her pyjamas (usually without leaving the house). Her hobbies include reading, sewing in a straight line and shouting at the television news.
For work purposes, please contact Kaz through her agent.
Email: [email protected]
Telephone within Australia: 03 8417 0000
If you need a photo for your article or event, take this.
Click to download a high res version
or one of these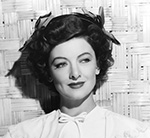 not really

how dare you